Keep things fresh with futon sofas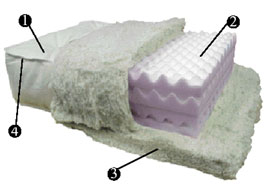 If you're looking to bring a solid piece of furniture into a room without the hefty price tag, why not consider a futon sofa, or consider a queen futon cover? They're a great addition to a room in need of seating, and because they convert from sofas to beds and vice versa, they do wonders for those trying to save space. Futon sofas are ideal for multifunctional rooms such as an office/guest room. Since they're easy to convert, you can have a lounge area in your office that also serves as a sleeping space for guests.
In addition, futons come in nearly every style imaginable these days. No matter what look you're going for, you don't have to choose a basic metal or wood frame futon. Today's futon designers incorporate popular design elements you'd normally find on a couch. For instance, drawers or slots for storage, arm rests and decorative pillows have become standard. You can add further personalization with the many styles for futon mattress covers.
Futon mattress covers never lose style
Futons aren't just for college students anymore; they're becoming more commonplace among households of all kinds because of the wide range of styles available. What's more, futon sofas are equally appealing to the style conscious because their covers are interchangeable. No longer does your room decor have to center on the largest piece of furniture in the room, the futon. Choose from countless futon mattress covers from kid-friendly animal prints to floral fabrics. With about 2,000 styles to purchase at the click of a button, we've got a world of choices to inspire you.