Defining the futon mattress pad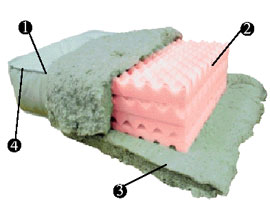 Futon pads come in different types based on the materials used to fill them. Following is a list of futon mattress pad types to put into your modern platform bed you may come across in your search to find the right futon.
Full cotton
Cotton/polyester blend
Full polyester
Cotton/wool blend
Full wool
Innerspring
While the full cotton pad is the most fundamental, others have evolved with characteristics that appeal to different consumer needs. For example, those looking for the ultimate feel of comfort should check out the 100 percent wool or cotton/wool blend. Those in need of a futon that's durable and long-lasting should consider the innerspring and cotton and foam mattress. Both measure extremely well in the rigidity category.
Weighing in on waterproof mattress pads
If you're shopping for a futon mattress pad to use in your living room or child's room, a waterproof mattress is an ingenious idea. A living room futon is subject to spills as is a kid's futon bed or futon sofas. When not properly cared for, those stains are tough to remove and often remain permanent. If you decide to buy a new pad altogether, make sure it's waterproof. The price is practical and will protect against future spills.
Fortunately, Fantasy Futons offers waterproof mattress pads and covers to make your life a bit easier when it comes to cleaning. These mattress pads can easily be thrown in the washer and dryer and are comfortable to lay on. The waterproof material is on the underlying layer, so you can't feel any discomfort against your body; all you feel is the cozy cushion sewn into the top of the waterproof mattress pads.